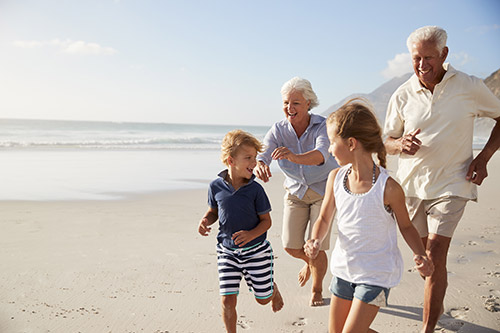 With raising spirits all around, we send our greetings to you, our faithful blog readers, cherished assisted living residents, memory care residents, and family members all! We are celebrating a degree of return to normalcy from pandemic-related lock downs. Family members are enjoying safely and personally celebrating life with all of our cherished residents. Families across our community are once again are prioritizing their summer vacation around their senior family member(s) under our assisted living care or memory care support services.
We've covered this subject before, but feel it is so important to revisit some considerations for your upcoming visits to your loved ones here at Manor Lake Assisted Living & Memory Care. Some of the things offered here might seem intuitive, others we bet you'll find insightful and actionable.
So here you go, some things to consider when planning your summer vacation with your loved one:
1. Treasure and be present with the person before you
First, it is always good to stop and remember those things that cannot be changed: aging, the effects of some illnesses, the progress of dementia, and other factors. "Old age," as Betty Davis said, "is not for sissies." Sometimes we see families whose holidays would improve if they paused briefly to realize that a parent will never again have the health and energy of past times. However, treasured memories can still be created with person before you. Honor that person; try to make him or her comfortable; ask to hear a story, or tell one yourself. Even in advanced stages of illness, holiday experiences can be joyous if accepted for what they are. It is good advice for life in general, and especially with aging loved ones.
2. Assign someone the task to be sure your elder is not over-stimulated
Especially for elders who are not used to being active and have their own hopes for a vacation experience "like old times", the temptation to try to keep too fast a pace during a holiday can lead to exhaustion. Be sure that every day someone is prepared to stay at home or leave an event early; your elder will be happier not trying to keep up with the most energetic members of the family. Try to rotate this responsibility so no one misses too much. It can be an adult child, a younger family member, family friend, or regular caregiver. This is simple, but easy to forget.
3. If the elder is traveling, plan extra time
Whether it is security scans at airports or long car rides, the pace and distractions that many of us take in stride as part of travel can be exhausting, confusing, or frightening for elders. If you are in a rush, the problem is exacerbated. Plan ahead, allow for a slow pace and leisurely pace, and explain what is going on. This can relieve pressure on everyone.
4. If you visit home, be on the lookout for signs that help may be needed
People who visit home after an absence of several months sometimes can see the signs of decline in the condition of the home or the elder. It is important to be on the lookout for these, especially if family is not regularly present. Signs include a poorly- stocked kitchen, plumbing or appliances that do not function and have not been repaired, clutter that may be the initial stages of hoarding, or poor hygiene. Rarely to our elders call and say, "I cannot manage alone and I need help to continue living here." Far more often, the signs appear without a request for help. If you have concerns about whether someone is safe at home, an assessment by a geriatric care manager or local senior citizens' service center is called for.
Vacations with aging parents can be bittersweet. But with proper planning and the right attitude, the emphasis can be on the sweet. Do not try to do too much; find ways to enjoy the person as he or she is today, and to help him or her enjoy the day as much as possible. Grieve if it is called for, laugh when you can, ask for help when you need it. It is all part of life.
For information on assisted living or memory care services here in Hiram, contact Manor Lake Hiram anytime.