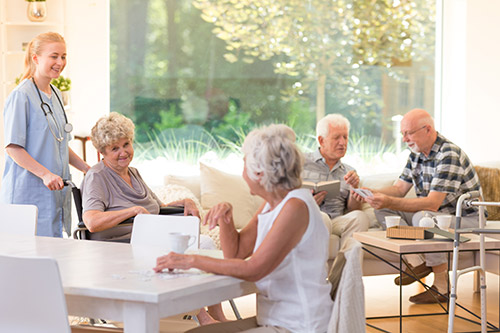 Welcome back to our assisted living and memory care blog. We've covered the first six of this eight-part series on the subject of "When and How to Seek Professional Assisted Living or Memory Care". Those six blog posts are conveniently linked for you in the topic list below:
Take a Personal Tour
Prepare for a safe Transition
In today's seventh blog post of the series, we encourage you to take personal tours of every community under consideration.
Take a Personal Tour
Now that your basic research is completed, it's time to pay a visit to shortlisted communities. But start with us though. I think you all understand by now that through this blog and other support services, our intent is to serve the entire general public not just our dear residents and family members. The more you know, the more you will come to appreciate us here at Manor Lake! Schedule a trip to the community to understand their environment. If possible, plan the visit along with your parents. It's recommended to understand the community culture, know the meal preparations being offered, and take a tour of the premises.
Ask about:
Meal options
Terms and conditions
Staff experience and qualification
Facilities offered
Wellness activities
Social outings
Emergency numbers
Number of residents
When Visiting Communities, Here Are Few Items To Look For:
Physical layout and cleanliness in common areas
Number of daytime and night staff and their qualifications
Meal plans and types
Regular activities schedule
New resident assessment process
Discuss with family members about available options. Narrow down your choice once you have a general feel of the place, and know what to expect once your parents start living there. You can check on assisted living's violations and citations with your state licensing records website. Most family members can also visit their loved ones anytime, but it is best to check with the service provider. During these trying Covid times, regulatory agencies can and do downward direct changing visitation management policy.
Once all the tours are done, all the questions answered, you gut will tell you that there is something special about our Manor Lake assisted living community and our memory care community. We're ready to discuss some or all the topics listed above. Call us!