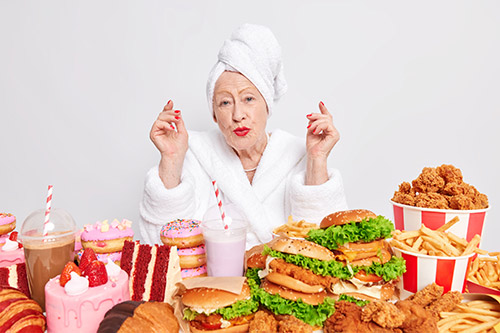 Whether you are a faithful subscriber to our senior assisted living and memory care blog or have arrived us for the very first time, we are guessing your age is somewhere in your forties or older. People in their teens are locked down in their Twitter and Tic Toc accounts. People in their thirties and raising families and have relatively young parents. People in their forties have aging parents and they themselves might be starting to question their very own level of forgetfulness. Now, we don't want to be Debbie Downers here today with you, but we do have some news that won't settle well with any of you (and that includes yours truly, the author of this blog post). Some foods are particularly bad as they can contribute to forgetfulness regardless of your age. It's all about Oxygen.
Foods that Deplete Oxygen
There are things that people put in their bodies that limit the amount of oxygen getting to the brain, causing it to operate at less than full capacity. Smoking has this effect and so does eating certain foods. Human body cells naturally lose their ability to carry oxygen as people age, which is why it's important to choose foods that do not contribute to oxygen depletion.
So, here it is folks. The following foods use more oxygen than they provide:
Hamburgers
Processed sugar
White flour
Pizza
French fries
To be clear, you senior assisted living care team and your memory care support team here at Manor Lake are not "outlawing" these food favorites. However, if you and/or your loved ones at home eat these foods regularly, should offset the ill effects by increasing your vegetable and fresh fruit daily. By default, if you do this, you'll eat fewer hamburgers and pizza.