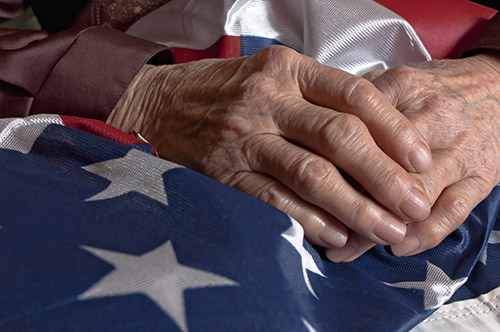 Very warm Veteran's Day greetings from all of us at Manor Lake Assisted Living & Memory Care here in Hiram. To all of our dear Veteran residents within both our senior assisted living community and our memory care community, we trust you're feeling our love, admiration, and respect. For those non-resident veterans reading this today, we offer you the same notion of love admiration and respect.
Today we offer a brief Veteran's Day history lesson as well as a couple of simple ways you can take proactive measure to honor veterans during this very special holiday.
A Bit About Veteran's Day History and the Holiday
On November 11th 1918, the armistice was signed signally an end to the Great War or what would later become known as World War I. This was a monumental day in history and one that has been recognized every year since. The day was originally referred to by President Wilson as Armistice Day, and was created as a way to recognize and remember both those that survived the war and those that perished. In 1971, the day was officially renamed to Veterans Day.
While Veterans Day is celebrated every year, many people often mistake it's meaning for Memorial Day. Memorial Day is dedicated to remembering those that have died in battle or as a result of their wounds. Veterans Day is a day to think about all veterans, both those living and those that have passed. It is a time to thank them for their service and the sacrifices they have made for our nation. If it were not for the bravery and dedication displayed by the members of our military, we would not be able to enjoy the freedoms that we do. And for that, we say thank you.
Simple Ways to Honor Our Vets
This year, we want to help give back by providing you with different ways you can say thanks to the veterans in your life. Whether it is directly or indirectly, everyone is connected in some way or another to a member of the military. By taking part in one of the activities listed below, you are not only recognizing military personnel for the sacrifices they make, but also saying thanks for everything that they do.
Wear a Poppy and Attend an Event
On November 11th communities across the country hold events to recognize and celebrate Veterans Day. By showing up and participating in these events, you are not only showing your support and saying thanks, you're celebrating military personnel for the heroes that they are.
Sit Down and Talk with a Veteran
In order to truly appreciate the sacrifices a veteran makes, take some time to sit down and talk with one. Doing so will help you get a better understanding of what life in the military is like and it will allow you to better understand why we celebrate Veterans Day. Try to stay clear of questions about combat as this might be uncomfortable for them to talk about. Instead ask things like what motivated them to join the military. What is their proudest moment? What were some of their duties?
Visit The Grave of a Veteran You Have Lost
If there is a veteran in your life that has passed away, make sure to visit their grave and pay your respects. Lay some flowers, say a prayer, and pay your respects by visiting them and spending some time at their resting place.
Sharing laughter, joy, and praise of our veterans during this holiday is what it's all about. Here at Hiram's Manor Lake Assisted Living & Memory Care we celebrate every veteran's unique sacrifice and contribution to our country and wish all of you a warm and blessed Veteran's Day holiday!